CASE 1845 QUICK ATTACH REPLACEMENT COUPLER PLATE Item #: 181776A1
Price: $1,499.00
Utilize this replacement adapter plate when looking to give your Case 1845 machine an update. From trusted OEM replacement part manufacturer Depco, this plate is heavy duty and built to fit and perform. This is an exact replacement for the original, all parts interchange.
Add this to your machine and take full advantage of the Universal Quick Attach system, able to connect to and run countless skid steer attachments and implements.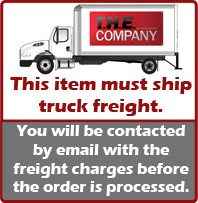 Item Details
Will Fit the Following Case 1845 Models
Delivery And Returns
Delivery
Orders are shipped via FedEx, USPS and Speedee Delivery (where available).   Shipping rates are estimated by weight. If there is a large discrepancy we will contact you and issue a partial refund on your shipping cost. If you feel the online quote is inaccurate please contact us and we will check into the matter. If there is a discrepancy we will make adjustments accordingly.
Returns
When you receive your order please inspect for accuracy. If there are any issues with your order contact us right away. Returns need to be placed within 30 days from the date of purchase to receive full credit. Special order items will have a 20% restocking fee. Our products carry a 90 day warranty from the date of purchase.
Cores
If your product has a core they must be returned within 30 days. If we do not receive your core within 30 days no credit will be given. Shipping labels will be provided for your core. Depending on the circumstances, shipping labels may be mailed, placed in your shipment or sent as a call tag with your carrier.
Back To Results